This is where it all started…
In this Street Class taught by Lesley Muguti on a Monday afternoon, I met a girl named Michel'Lee Roxanne Williams who would change my semester at Sussex and my life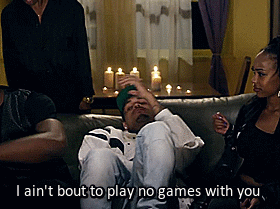 forever. It's amazing how timing works. Almost immediately after we met, I heard of the Sussex Got To Dance Competition. I knew she told me she is primarily a contemporary and lyrical dancer and I'm more of a hip hop person myself these days. I figured, "Hey, I'm talented, you're talented, let's do something about it". Thankfully, she agreed and we wasted no time getting to business. I asked her to be my partner on a Tuesday and we started practicing immediately on that Friday. No games were being played.
---
Turn Up The Music
At first, we thought we would stick to one song: "Replay" by Zendaya. It had a hip hop vibe to it, while also having a slow contemporary feel to it. It was the best of both worlds.

However, we realized that it was a competition and we wanted to showcase all that we got so we decided to mix songs ("Latch", "Mek It Bunx Up", "Hit The Quan", etc.). I can't even begin to tell you guys how many song changes we went through. With every song change came a sequence change, and with every sequence change came a transition change. We were making changes almost every two seconds, but all of them were for the best. Michel'Lee and I even made changes up until the day before the competition. We're both perfectionists like that. We typically practiced three times a week for two to three hours each, including Saturday mornings. That's how you knew we were dedicated! With Michel'Lee, it didn't even feel like rehearsal, it just felt like I was having a good ole time with a friend. At first, because she and I didn't know each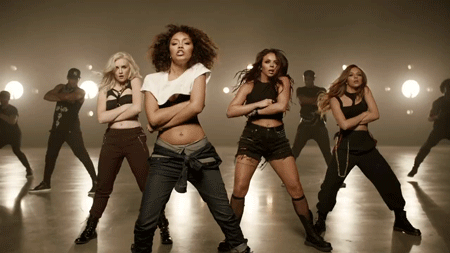 other too well, there would be some sort of awkward pauses in between dialogue, but as practices got longer and longer, we bonded closer and closer. We had so many things in common: heritage, Little Mix, food, and the little things in between. I mean, come on! How many other Black girls can proudly say that they LOVE Little Mix?!
I developed such a great friendship with Michel'Lee that she became more than a partner to me in such a short period of time. When we went to town together to shop for our performance outfits, we had the greatest time together trying stuff on and complimenting each other perfectly. My favourite part of that entire day had to have been when we got McDonald's (of course), and we just talked. We talked about the differences between where we come from and Brighton, our friends back home and much more. We even started talking about how kids are in such a rush to grow up that it's absolutely ridiculous. Celebrity gossip, relationships, everything you could possibly think of. That's the day I knew I had made a friend that I would keep for the rest of my life.
---
Get Your Back Off The Wall, Don't You Get Comfortable
The day of the competition approached and Michel'Lee and I both knew it would be a long
one. First of all, everyone, I went out the night before with Michel'Lee and a few of our friends for our friend Sarah's birthday. At first, we got together in a social space before we left and someone offered me a drink. I couldn't be rude and say "no", right? *wink wink*. We went to karaoke and some clubs that night and it was so good to just let loose and have a great time after all of the rehearsals we had been putting ourselves through. Just imagine a bunch of drunk/tipsy people singing/yelling to Beyonce's "Formation". We were TOO live. It was the best time I'd had in a while. No worries, no work, just cutting loose. However, what goes up must come down. Common knowledge, right? Wrong. I woke up the next morning and this happened…
Not only did I still have alcohol in my system, but my hair was a complete bird's nest. I remember it raining, me not having my umbrella with me, and me being mad about it because I had just paid a good sum of money to get my hair professionally done. My hair was lacking so much moisture, volume and bounce. It was just so….brittle and dry. Like to
the point where if I touched it, a piece fell out. I was freaking out so I called Michel'Lee to help me bring my hair back to life within the matter of two hours that we were supposed to leave for the competition. Ummm, yeah, nothing good came out of the situation. We tried adding heat protectant, oil, straightening it. Once she finished straightening it, I saw little speckles of yellow representing my once luscious locks of blonde hair all over my crewneck. Those pieces of hair represented the pieces of my life fallen into shambles in that moment. She said it looked better than it felt, which wasn't HORRIBLE but I was more concerned for the health of my hair than the way it looked. Don't worry, everyone. As I'm writing this blog, my hair is in an overnight hot oil treatment and I'm going to go deep condition my hair the minute I publish this post. Once again, no games being played.
Not only was my hair completely destroyed, but it started raining. At that point, I felt as though my whole world was falling apart. I was already stressed out and nervous, but now my hair was going to be completely disgusting. I had no food in my system because I was trying to get my life together before we left that way we could actually leave on time. I was at my peak. Once we found the theatre and started watching dress rehearsals for the competition, it hit me: this is real. After weeks and weeks of practice, my partner and I were about to compete against 70 other dancers. Once we got on stage for dress rehearsal and started marking our positions, the nerves began to wither away. We were the second act in line so there were very few people there to watch us rehearse, but the people that did watch us said we did really well. As Michel'Lee and I watched the rest of the performances, we
realized that we didn't care if we won or not. Everyone who entered the competition had completely different strengths in totally different areas: Cuban Salsa, Argentinian Tango, Contemporary, Pole Dancing! I mean, seriously, the pole dancing was like watching a Cirque de Soleil act performed on a pole so effortlessly and gracefully. I didn't want to win Best Choreography or Best Performance anymore. Who ever was going to win would be completely and utterly deserving of whatever the received. We were all winners in my eyes.
---
Dance Me If You Can
Hair, it's done. Makeup, it's done. Swagger so on point, all lights are on us. In the words of

 Zendaya, all we had left to do was "swag it out".
Three minutes until we go on. We sat on the tables outside of the doors and began to pray separately, and then we began to cry together. I tried to hold it together as much as possible, but seeing her cry made me break. It wasn't tears of agony or pain, but happiness. I couldn't be prouder of this girl if I tried. S
he has come out of her contemporary shell to do what she loves to do: perform and dance. We embraced one last time before Tahlia told us we had to come in the wings. As we stood in the wings waiting for Jazz Troupe to finish up their phenomenal piece to a rendition of Michael Jackson's "The Way You Make Me Feel", Michel'Lee and I held hands and got pumped. The emcee began to read our description and my heart began to race. As we let go of each other's hands before we walked onto the dark stage, I just kept telling myself, "Ph.D. on Everything".
Immediately after the lights went out, Michel'Lee and I wasted absolutely no time crying. We were so proud of one another for conquering our fears. I can undoubtedly admit that this experience has made me such a strong individual. I was always so scared to compete because I knew that there would always be someone better than me, more talented than me, prettier than me, and the list goes on, but this competition taught me that I have what it takes now to put myself out there and just go for the gold no matter what. You have one life to live, so live it up while you can.
This slideshow requires JavaScript.
To Michel'Lee,
Stealing words from "Cater 2 You", I must admit so pure your love shines through. You're such a genuine person and I am so glad that I told you that I liked your shirt that day in Lesley's class. You are truly a talented dancer and an incredible friend. I really do hope and pray that you try out for all three troupes next year. You've taught me to step out of my comfort zone, set my competitive edge aside and just learn to have fun living in the moment. I can return to Spelman College with a reminder of how much dance is part of me and has always been. I now have the confidence to compete in pageants, other dance competitions and so on and so forth. From those four minutes on stage, I've gained confidence, maturity and self-esteem: something I've been lacking for quite some time. Even though we didn't win, I couldn't feel any better even if we did take a trophy home.  As long as you're breathing, never lose your fire and passion for dance. Always keep that candle lit! We got into formation and slayed that dance! I love you so much and always remember…Ph.D. on Everythanggg!
XOXO
Travelista Diaries